Welcome to my insane project! Of reviewing all episodes of SPN, beginning at the beginning. This one's a long'un, so settle in and grab a beverage/snack/whatever. Additional thoughts, alternate theories, things I missed (of which there will be many), all very welcome in the comments.



... Please don't leave me. *whimpers*



The Road So Far
1.01 Pilot
SPNWiki entry for synopsis, trivia, etc.

Wherein I realise I have absolutely no idea what the hell I'm doing. Oh, and wherein the entire series-arc was foreshadowed in this one episode.

(Possible spoilers for all aired episodes.)



Lordy, here we go.



Lawrence, Kansas
22 years ago
*weeps*


Oh man, what is it with this family.... A lovely young mother with two beautiful boys, a loving, open and strong father, and when this sweet scene of domesticity is destroyed we leave the last real "normal" on this show behind, forever.

But for now, for these ten bright years, Mary has had the home, the family, the normal she (and later her son) so desperately desired, as the darkness of the destruction of her own family recedes and dutifully stays at bay. In this, at least, destiny has taken a strong hand; the boys were always fated to be raised as hunters. The only reason the supernatural left Mary and her family alone for this time was because of her deal with Azazel; if she'd managed to run away with John, what's the bet evil would have followed? It was a family business (and curse) for the Campbells long before it was for the Winchesters; possibly even generations long. [Edited at time of posting to add: written before I heard any rumours about the upcoming season, which I've mostly been avoiding.]

And Writers already know she's a hunter; that she'd made the deal that set this in motion; that was always part of the story. (Home: "Sam. I'm sorry." – "For what?")



(Agh, this is breaking my heart already.)



Dean's carried into the scene in his mother's arms and out in his father's, kissing baby brother Sam goodnight in between, surrounded by, and giving back, love and joy and warmth and security. Everything he's about to lose, except his impulse to keep giving. He goes straight into his father's arms, just as he will in Shadow. Between them they decide Sam's not ready for football yet – between them, they're protecting him, keeping him safe from what he can't handle. John answers Mary's question that, yeah, he's got Dean. And he doesn't say goodnight, he says, "Sweet dreams, Sam."

WRITERS, YOU BASTARDS!



(I think I'm going to be saying that a lot.)





(Also, hi, JDM! Hi, JDM's dimples! I've missed you (both)!)



Oh, little Sammy! No! The mobile's moving by itself, the clock thing stops ticking, the moon-shaped nightlight flickers.... And he's so defenceless and.... Right here, right now, we know the nature of evil. Evil is not cool, or exciting, or blindly stupid, or a grey area of relativity; it is evil. It ravens. It kills, steals and destroys, vicious and pitiless, respecting no boundaries of innocence or ignorance once it finds its way in. Comes out of (apparently) nowhere and tears you to shreds. There is, and will be, no blurring of the lines, no matter what confusion sometimes arises in the struggle against it. (Considering angels were never intended as part of the game plan, it was probably supposed to remain fairly straightforward: supernatural=bad, humanity=good. Commence showdown rearguard action.)

More than that; Show unequivocably declares that our actions have consequences for other people (not generally a popular notion, but true nonetheless). That's part of what being human means. Others suffer (or are blessed) for our choices, and that plays out nowhere as strongly as in family – family which is, after all, the whole point of Show.

And there she goes: Mary gets out of bed. I don't blame her; ten years ago some random, emotional almost-stranger tells her not to get out of bed on a certain day but gives no good reason. An event of some weirdness certainly, but absolutely nothing to what subsequently happens and presumably completely swamps her memory of it. And in the middle of the night, are you really thinking about what the date is?

What's interesting are her little reactions. She does still think like a hunter, we just don't know enough to spot it yet. The flickering light does get her attention, but when she taps it, it settles down. Remember she's been promised nothing will bother her and her family, and nothing has, and loose wiring does make lights flicker sometimes. More to the point, when she realises it's not John in Sam's room, the first thing a normal woman would do about a big, strong, creepy house invader is wake up her husband.

But already she knows this is a supernatural threat, and that she is much better suited to handle it than John. She chooses not to wake him because that would actually make it harder to deal with the threat. That look when she gets to Sam's room is horror – and recognition. We cut to John hearing the scream, which seems to follow immediately after, but as we later see in All Hell pt 2, we lost a bit of time before Azazel puts her on the ceiling, making her scream in pain, not fear.

Also, wtf is it with the way he kills people? Why that MO, other than they need a distinctively supernatural one to recreate at the end of the episode and reference later? No other demon bothers with that kind of theatricality. Also, doesn't that seriously jeopardize the kid you just spent ten years on to get at, starting a fire in their nursery? What logic are you running on, YE? Okay, fine, whatever, don't care. *handwaves* (

<– I may be saying this a lot, too.

Speculation? Do we have anything to go on, here? Mind you, I know that's why a lot of things are included in Show, just because that's what they need to make the story work. Hence the "fine, whatever" response. Still, if we have thoughts, I'm all ears.)

Hey, look, the flickering light was over an old wedding photo. Huh. Okay, I'm going to say they're Campbells and a previous generation of badass hunters. Because I can.

(I have a theory that "Samuel" is a family name tracing all the way back to Colt and his hunter-on-horseback buddy. Fic? Anyone? One day I'll probably give in and write it myself.)



Babby Sammy looks pretty calm and happy, though. I wonder if that's a high/being drugged from the blood

(*shudders*)

, because what just happened in his room cannot be something that calms a baby down. The fire itself definitely sets him off, but by the time Dean carries him outside, he's quiet again.

And Mary's expression, looking down at John – that's not shock and pain, that's wanting to warn him. Horror at what she's let into her family, what she's just seen happen to her son, the hideous violation she exposed him to. I doubt she's even thinking about what's happening to her (put any of the Winchester boys in the same position and think about what they'd be thinking/trying to do), but she can't say anything, and what would she say if she could?

John protects Sammy by giving him to Dean and stays to try to save Mary, fight the thing that's killing her. In some fundamental way, he never really left that nursery, did he?

Wee Dean is standing in front of his house, following Dad's orders, holding on to Sam, keeping him safe, whispering it's okay, Sam, watching his whole world burn in front of his eyes. Something horrible has happened to Mom, and who knows if Dad's ever coming out; the first order John ever gives him is the first time Dean's sent out on his own, completely responsible for his brother, not knowing if Dad's okay and will ever come back, knowing Mom won't. Prime directive Look After Sammy starts right here. In some fundamental way, Dean never left the front lawn, did he? Until now (as of Swan Song), at any rate, when he did as he promised Sam and chose the future.

Then John comes through the door, out of the fire, throws arms wide and carries his sons to relative safety (All Hell pt 2: John comes through the door, out of the fire, throws arms wide and ... yeah). There they sit, Impala big and solid to carry them as the world descends into chaos and The Fight claims them for its own. Sammy in John's ever-grieving arms, Dean huddled quietly in the lee of John's shoulder....


WRITERS, YOU BASTARDS!





Stanford, California
present day




(Quick flaily freakout OMG they look so young and ... and young and ... it's all to come and *waaah flail* *deep breath* ... okay. I'm good. We can go.)



Sam's normal, smart, stable, got a beautiful girlfriend not so very unlike Mary, especially as we meet her in Beginning, and great prospects. Of course, he still comes from a majorly messed up family, who he doesn't talk about or to, but he's carved out a little place for himself in the world and he's doing it. Achieving, on his own sheer stubbornness and ability, what Mary wanted for her kids. All unwittingly, he's honouring Mary's wishes as much as Dean honours John's. ("You think Mom would have wanted this for us?")

Dean shows up ("You can't just break in, middle of the night, and expect me to hit the road with you" – except Dean does; he has no respect for the rules of normal life), and the first thing Sam does is fight against him. Against his brother's presence and the intrusion of everything Dean brings with it; the unbearable demands of family and The Fight. Okay, sure, it's also to show that these brothers are badass and well trained, but this fight goes on long after they stop throwing moves; nearly all S1, in fact.

Hey, look, for two whole seconds Jess is sweetly excited to actually meet Sam's brother ... and then Dean opens his mouth. Smurfs? Someone smack that boy upside the head. (Just because we've got used to him and adore the great big softy underneath, we think the whole "You hooked up with [...] my prom date. On prom night." – "Yeah, that does kinda sound like me," from What Is is unfair to Dean. Really? Because the first thing he does upon meeting his brother's girlfriend is hit on her – no serious intent, but Dean's no saint, here, people.) Didn't your mother ... teach you ... better ... than....

(Excuse me a minute, I need to go sob quietly in the corner for a bit.)



Twice in trying to convince his brother, Dean uses lines which would work on Dean, just assuming that's all Sam would need. They communicate meaning just fine, but what would be incentive enough for Dean, with his different priorities and drivers, is not for Sam. When Dean says John's been missing a few days (read: a few weeks), Sam knows it's serious, but his flippant answer is his attempt not to get dragged back into his family's crap. It's only when Dean adds the very clear, can't-be-discussed-in-front-of-civilians danger of hunting trip that Sam caves to hearing him out.

There's a big difference between knowing everything about someone and understanding them. That gap doesn't get properly closed until the end of S5.

Sam has all the good intentions in the world: "Whatever you have to say, you can say it in front of her." – which are just unarguably incompatible with the life the boys lead and the reality of their world. And without the slightest acknowledgement of his u-turn, Sam drops the intentions and the principles undergirding them in favour of the pragmatic reality. When Ruby later tells him, "You're gonna have to do things that go against that gentle nature of yours. There'll be collateral damage, but it has to be done," (Sin City) this pattern is exactly what's in play.

Sam resolves the conflict in his conscience, about going with the objectionable necessity to the objective, by saying "I don't have to like it." It's a Whole Thing. *hands* Sam wants to believe in, live by, the principles he's selected, wants to be that man (and his journey partly is, I believe, to grow into that man), but what he really lives by (and thus really believes in) is achieving the objective. When the principles (Jess and I are a unit, you can say it in front of her) require sacrificing the objective (deny hunting any part in the life I'm building for myself), the objective wins, and he justifies it by feeling bad about it.

And Dean ... hm. I think for Dean, objective and principle are virtually the same, meaning he almost never feels the tension of having to choose between them. The conflict largely occurs when the principle of obeying John's orders clashes with the prime directive of saving Sam (which Dean instinctively knows is more complex than John understood; John's fixed on the external threat, as dictated by the event of the nursery, but Dean just knows that the most significant part of saving Sam happens on the inside – it's okay, Sam). I think. Ponderations will continue.

Sam quickly and angrily sketches out what their life's been, more for our benefit than Dean's, and we realise that Sam has only ever known half the man his father is, the half left over from Mary's death. Even though it was only the earliest four years of Dean's life, he knows where John has come from. He knows both sides of his father, sees that pre-fire John glimmer through every now and then, in a way that Sam just can't recognise or appreciate. After Jess, Sam very slowly comes to understand how much John lost and how that warped him, and to learn the man John was.

The background also clearly delineates Sam and Dean's different priorities; by Sam's "normal" ones, Dad raised them wrong. By Dean's, Dad raised them right. I sympathise with Sam and all, but right there is the difference between those who are raised in the life (Sam, Mary) without any personal motivation for it, and those who entered it via very personal trauma (Dean, John, Bobby, most hunters). Those raised in the life long for normal out of the grass-is-greener perception that normal is safe, that out of the hunt and the fight, life is safe.

Having come from that, having had it destroyed, John and Dean don't even see that connection, making the longing irrational, inexplicable. Every new set of victims, every week, shows us that's emphatically not the case, but Sam only comes into contact with their lives after they've collided with the supernatural, and so never sees their shattering of normality. Even when Sam's normal, safe life that he built all on his own, guarding so carefully from The Fight, goes up in flames at the end of the episode, there is no disconnect for him – because it doesn't come out of nowhere. It comes from his past, from the proximity his family already has with the supernatural.

For Dean, the only choice is between going down swinging or going down screaming. He doesn't really believe in the third option, living safe and happy until you're done, except as an abstract, temporary ideal (read: happy illusion) that he can save other people for. Either way, evil's going to cost you, going to take everything you have; Jus In Bello: "The world's gonna end bloody." And Dean and John, however messed up this dance with the devil's left them, are right. It's not a question of whether you can achieve victory; it's a question of who you are and what you've chosen when the end comes to you.

And they "save a lot of people doing it, too." Oh, Dean.

Okay, they demonstrate a bunch of know-how of esoteric supernatural whatsits, showing more of their training, while laying out the shape of the tensions and the mission. They use beat-up, downhome gadgets, salt, silver, guns – so very human, "natural" artefacts – to track and fight the supernatural.

(Excuse me, but I'm going to have to fangirl on about this for a bit, because this part – and one line specifically – is what hooked me hard, and completely, into Show.)



The second time Dean tries to convince Sam, he once again starts with the only thing he'd need to hear, if the situation were reversed: "Dad's in real trouble, if he's not dead already. I can feel it." Sam doesn't bite, so Dean pushes, trying to get Sam to agree according to Dean's priorities: "I can't do this alone." Dean always, always rises to what others need of him, both John and Sam; it's who he is. But it is not how Sam works, not who he is; he didn't have to be that, because Dean was already filling that role, meeting those needs.

And Sam knows what his father ("He's always missing, and he's always fine") and his brother are capable of. He has more faith in Dean, in Dean's capacity to come through for his family, than he has in any other human on the planet by orders of magnitude – and he calls Dean's bluff. "Yes you can."

"Yeah ... well, I don't want to."

There. That line. That line just ... opened Dean right up and laid him out in front of us with everything we need to know to get who he is. That was the line that had me almost standing up off the couch in surprise

(I wasn't expecting anything like this when I started watching the eps on dvds from the local video rental; I was expecting prettiness and supernatural beasties and not much else, frankly).



This is the line that speaks to Sam, to start getting him invested in the problem; it's not about obligation or need, it's about what Dean, as an individual, wants. That, Sam understands. That, Sam responds to, wanting to give his brother what he wants. Sam was always, always being given what he needed, but never what he wanted; never given autonomy in his own life to choose for himself.

Another interesting thing here, also, is that Writers only had a very shallow concept of who Dean was at this point. SPN was pitched as Han and Luke driving across truckstop America in a classic car. Dean was supposed to be all cocky charmer outlaw, nothing like the level of complexity Show slowly discovered in him. Sam was the one with the arc planned out; was SPN's Luke with SPN's the Force (which turned out to be all dark side). Dean was kind of just along for the ride, which explains why he doesn't really have a character arc – and lay down the arms, Dean-girls, for just a second as I explain that. He learns, he matures, he struggles and breaks and overcomes – but we get to the other end of five seasons, and his defining moment is not letting Sammy down. Of being Dean and thus saving Sam. Yeah, he grows – but the core of him does not change. Sam is the one who changes, who has to change in order to fulfil his role, his mission; Dean was always, in his core identity, who he needed to be to fulfil his. Sam is transformed by his journey; Dean is refined by his. Okay?

*ducks behind sofa until the all-clear*




Three-way family reunion. (Fine, I just love this pic, okay? DON'T JUDGE ME.)


So, the relevance of all that to this line: going by everything listed, and the general tone and delivery of Dean's lines, the voice of that line on the page was cocky, I bet. Exasperated. Chiding the little brother, that last overbearing, typical, older-brother prod into doing the right thing by family and coming along with him.

(Of course, this is pure speculation. If I had to guess, I'd say Kripke is a younger brother, considering that's who he picked as the audience surrogate.)

Older siblings get a lot done that way, even after the point the younger one(s) grow up enough to dig their heels in, because quite often it still works.

Which is why they hit the jackpot with Jensen and Jared. It's clear from the way Jensen played that line that he already had a much better idea of who this guy was than Writers did, at this point. He knew the pain and the loneliness, everything Dean's brash careless game-face conceals – and, like Dean, proceeded to hide it except for the few and far-between beats he allows to hint at it. (And although Jared didn't have Jensen's experience, and in the first season it can show, he has instincts and rapport enough to respond to it, to follow Jensen's lead and allow Sam to discover Dean at his own pace.) That is, until Writers got on board and threw an angst parade with angst confetti like it was going out of style. Then again, considering the trajectory of the broad story, angst was always going to be on the agenda, along with red-blooded ass-kicking and rock'n'roll.

So. The line. Dean. When he said that, this is what I heard: "Yeah, I can do this alone. Technically. My job has always been done alone, and I've always done it. But the reason I've done it, even been able to do it, is because someone else needs me to. This is too much, too long, for alone; my job's done alone, but it's done for others, with others. Family. You. It's not about the skills, it's about what I need to function: someone else to take care of. I can take care of everyone except for myself, alone. I don't know how to function when it's only me to look after, because that doesn't mean anything to me. It's not important. It can't motivate me. I only know how to take care of myself when it comes second to taking care of someone else, of family, of you. I need you, or my priorities break down and I don't function." All this, in expression and delivery and body language, all in one simple line, walloping me between the eyes and to the deep of my heart, where no other show has lived before or since.

And so, Dean is simply honest with this line: he doesn't want to do it on his own (although if he has to, if Sam refuses, he'll find a way). But part of taking care of Sammy is not ever putting the burden of his own need on him, so it's phrased as "want". He doesn't push that any further. Totally honest and completely misleading, on purpose. And that's Dean all over, and in some ways the polar opposite of Sam, who is secretive (often even duplicitous), while making his wants/needs very clear. Which is largely because they shaped each other's expression of needs, through no fault of either of them: Dean grew up knowing his own needs and wants were less important than a lot of other things, most especially Sam, and sometimes downright dangerous (ie, Something Wicked), whereas, because of Dean's care of him, Sam grew up expressing what he wanted and needed without fear of rejection, confident that he'd be cared for no matter what. It's why he doesn't see why he shouldn't clash with John over it, and why Dean can't see why he would. And neither can understand the other's stance for a long time.

Well, good, that's long enough spent on one line, even if it does embody an entire dynamic within the brothers' relationship, even if it's what made me completely fall in love with Show, with Dean, with Sam, even if this is the pilot and therefore there's a lot of setting-up to explore. I won't spend this long on a single line again, I promise.
Probably.


Moving on! Bottom line, Dean's been doing solo hunts because he's 26, dude (and solo is fine as long as he's anchored by John); which means John's built up enough confidence in Dean's ability to handle the hunt on his own, to take off without a trace when he gets scent of the demon (again, John, focussing on the externals with his sons, not the internal issues). In two years, Dean hasn't bothered Sam, hasn't asked for a thing (Dean never does – unless it's for the sake of someone else, which is the only reason he can use that line we're no longer talking about), which is his final guilt-prod to seal the deal. And again, it's what he owes Dean, not Dad, that Sam responds to. They go off together to find Dad, amidst Sam reluctantly telling Dean about his prospects, first thing Monday (because he knows exactly how little Dean will value it), and promising Jess that he'll be back, determined that this life and path is not going to be disrupted by the slight detour. Oh, Sam.

So here ends our very brief glimpse into the life Sam built and the love and hope that he nutured at Stanford, that he poured himself into for years. It's not perfect, maybe, but it's good, and seeing him lose that is the bookend to seeing what Dean loses as a child. It can sometimes be easy to forget how much Sam lost in Jess's death, how far he fell back into the hunter life, and how much he needs vengeance. How much it matters. He's as trapped by the life as Mary was, John was, Dean is. In some ways, the whole destiny/free will arc is summed up in the brothers' journey to learning what it takes to free themselves from the prison of the hunting life in order to be in The Fight as they choose to be, instead of because they're trapped in it. The choice was never whether to fight, because that is simply their reality: to live is to fight. That's the metaphor. It was always about how and why.

Interesting how similar Sam was to Mary, without even knowing it; sharing his life with the one he loves, but not sharing himself. Both of them hiding such a huge, formative part of who they really are even from the people they love, from family. Something Dean is incapable of (Route 666 showed this with Cassie, and then there's all the times Sam is able to push him to talk), and I suspect John would be, as well. The way John keeps clashing with people? I don't think he knows how to be less than fully himself, and Dean inherited that.




Jericho, California


Introducing our very first MotW, the Woman in White. Thematically, the connection to the boys is fairly obscure until we know Mary's story; it does seem to be a deliberate, twisted echo of Mary's death. By her actions, Constance Welch does something objectively, temporarily (but kind of understandably?) insane, destroys the lives of her two children and leaves her husband a hollow wreck (and, you know, dies herself), but I'm not sure the analogy is trying to be that precise (Mary is no Constance). That kind of wholesale destruction of family is in contrast to the Winchesters, who are about what happens in surviving something like that; but the deeper, simpler theme – of the kind of damage family can inflict on one another, and the ongoing repercussions of that – is definitely there. And the fact that it's the mother's actions? And that at first it looks like a random tragedy that started it all, when really it was a matter of choices and reactions? Yeah, don't think that's a coincidence, either.

Another way it's connected through contrast is Constance's refrain of "I can never go home." The whole theme of "home" + Winchesters is incredibly complex, a wistful chord winding through their whole song, so I'm not going to try to get into it now. With Constance specifically, there's the idea of never being able to go back to the way it was, as well as the issue of facing up to what you've done or what's gone before. But this really seems stronger as more of a short-term theme, of facing the place where "home" became horror. Which they do in Home, again highlighting that the Winchesters do face their demons (literally); they fight back. They were victims, sure, but they don't let that define them or control them.

The boys are outside Jericho, doing the real-life stuff we love so much. Filling up the Impala, grabbing food.... And Sam's expositioning us as to the practicals of how the hunting life works.

(Omg, so cute! I don't even remember when that was a question any more. Credit card fraud!)




Cassette tapes ftw!


And, look, it's a great honking Writer Agenda: the rockin'-ness of rock music. Message received and understood, sir. Tonally, though, it is the perfect complement to Show (all together now: take your anaemic alternative pop and shove it up – hm? what?). Gritty, ballsy, sentimental, dark-edged mystical undertones and rebellion, it's music that's all about blood and fight and living a bad life right, to your full, and thereby living real life.

Sam: "Sammy" is a chubby 12 year old. It's "Sam".
Dean: Can't hear you.
Oh, boys. One day, you will grow up and be let grow up. One day. In the meantime: *gigglesmish*

Impala anthem! Baby, you're one incredibly cool and faithful car. You have the distinction of being the only character not to have spawned frothy-mouthed schisms in fandom (as far as I know). Congratulations. We all love you. (I've heard some people even think you're sexier than the boys, but don't let it go to your head.) *cranks "Back in Black" and rocks out in honour*

They roll into town and are straight on the job, gelling; Dean dives in with his fake badge and Sam falls in behind, clockwork-smooth even after being apart for years (other than brief flashes of brotherliness). Is it just me, or do they touch each other more in this episode than usual? Re-establishing rapport, maybe? They've always been about the non-verbal communication, physical or otherwise ... and then of course, this is a lighter-hearted episode than anything, ever after again. This was back when Jess was still alive. Remember what that was like? No, me neither.

They're walking away from the cops on the bridge, and I'm calling it: first bitchface!Sam. It may be a proto-bitchface, but it's there. (Tallied for general statistical research for the betterment of all mankind, and my amusement.) And, immediately following, first lensflare!Dean. Also kind of proto. (Also tallied for whatever reason, etc.)

And just in case we, being normal people, were wondering, Dean educates us to the tune of authorities being no good for handling this kind of problem. The only ones equipped to do it at all are SamnDean. In fact, it won't take long to learn that authorities are worse than useless; they're downright obstructive and a pain in the ass, and will continue to be, whenever the boys can't duck them. Sam, though, wants to preserve a respect for their authority, as he always has, maintain that mark of normality, and for the second time we see the boys' values in conflict, of each of them wanting the other to see things the way they do (the first being the safe/normal/prospects of the interview). It won't be the last. (<– Understatement.)

They go straight to tracking down the next lead. I only just noticed – they don't get a hotel room until later, when Dean needs to clean up. They're focussed on finding John; there's no intention to settle in even slightly (even though, ironically, doing so finally led them straight to John's room). Dean is glib and Sam is earnest with puppy eyes, and between them they worm their way into a leads-tracking conversation with the perky goth girlfriend of missing (dead) dude.


She and her friend let us know that People Talk, to the first unison!dialogue ("What do they talk about?"), and okay, these tallies are going to get ridiculous. I'm going to cap it right here and now (except for when they cry, because we all love that). But, look, they're already syncing!

(Thank goodness they're not female. I bet there's fic, though. *wrinkles nose*)



Anyway, people talk, and the urban legends motif takes off. Again, amidst all the heavy mytharc of latteryears, it's easy to forget this is how it started – and that Kripke's original vision was much more about the scares and thrills and gore and telling a horror movie each week. And that, like the rock, it's the right structure for the deeper story to anchor itself on; the horror aspect distils the spiritual reality of "family is hell" that we all experience (just as it did for Buffy, in the "highschool is hell" analogy – and that will likely be the only time I reference Buffy, so don't worry), and makes it story-worthy. (When you think about it, it's amazing how all the elements came together, and the people who could see and delve into its potential, creating balance and depth in Kripke's vision.)

Hm, the girlfriend's wearing a pentagram, dubbing it "that devil stuff" designed to scare her parents. "Actually...." Sam's delight in arcane trivia comes to the fore.... Aaand Dean's bored. Oh, you two. Don't ever change. Except for ... yeah. Anyway.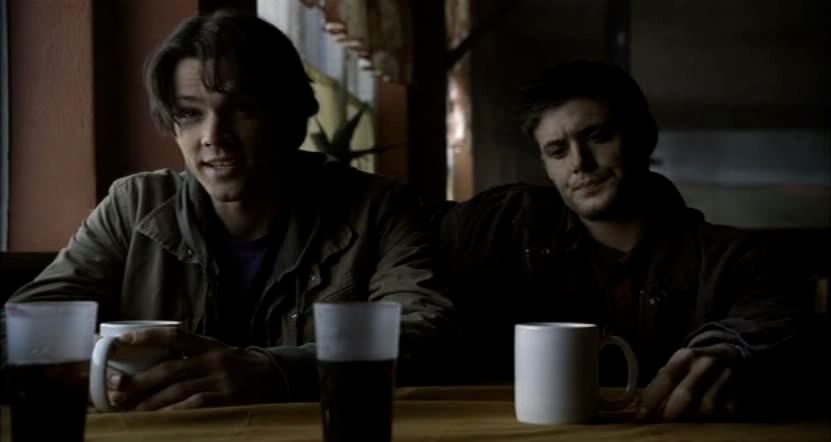 Okay, earnest and bored, then.


This also pretty much establishes Show's licence to adapt its source material to whatever it needs to tell its story: civilians (us) don't know the reality behind the legends. Complaining that they got something wrong is completely beside the point; it's inspiration only, and they inevitably change it to serve the story (as they should).

Next stop, library. More brotherliness! And research!
Sam: Let me try.
Dean: Got it.
Sam: *shoves*
Dean: Dude! *smacks* You're such a control freak.
Would that just possibly be a control-motif hiding out there in their relationship, also echoing the larger theme of free will and destiny? I do believe it is!

But, once forced to, Dean lets Sam do his thing, where he demonstrates reasoning skills to complement his keen retention of trivia, which would go a long way to explaining his 174 LSAT score. In the here and now, it nets them more clues, leading them to the spooky bridge at spooky midnight. Dad would have been here, so now what? Have another heavy conversation, of course.

Point one: Sam's "one of us" – a freak. Pretend all he likes, he can't change what he is by what he does. He can choose what he does, though, can't he? Can he? And does Jess know who he is, what he's done? No, and she's never going to. Well, that's healthy.

Point two: Sam isn't motivated like Dean and John. So what does responsibility mean in that context? If it weren't for pictures, he wouldn't even know what Mom looked like, and by extension he never knew what John "looked like" before it happened. He's been on the outside of this crusade that's shaped his entire life, he always has been, it doesn't make sense to him, and he's never been able to get out from under it until now. Even before losing Jess, that's a lot of anger and resentment.

I wonder at what point Azazel decided to kill Jess (via Brady, as we learned in The Devil You Know) to get Sam on the road, hunting again, this time as his own fury-driven crusade? Apart from story symmetry reasons? We know he had spies and agents seeded right through Sam's life to keep an eye on him or manipulate him – did he just seize on the event of Dean coming to get Sam hunting again, and to make sure Sam would stay hunting, while with the one person in the world that could keep him relatively stable and safe? Was he having someone (Brady?) tap Sam and Jess's voice messages to one another? I mean, what did he know and when was the decision made? How many strings was he pulling, and how much was just the "natural" convergence of events? Well, anyway, it happens. Whatever. *handwaves*


Point three: in spite of his "devil may care" exterior, Dean is very motivated, and what lurks in him isn't fundamentally anger, it's pain and loss (even if it often expresses itself as anger).
Motivated.


And then they are literally run off the road (bridge) by the Impala. I can't think of another episode in which the Impala plays a more active role, until Swan Song. She's always there, a touchstone and a constant and a symbol, but usually just quietly in the background. This episode, however, is very clear on the idea that she's central to the story, as we'll see later, and through her features the possession of one of the family, turning them against the other(s) (a central theme, which otherwise doesn't kick off until the end of S1. Come to think of it, Dean's the only one who has never been possessed; his car, his father, his brother and his grandfather have all attacked him under supernatural control. If we discount the shapeshifter in Skin, the only time Dean has attacked his car or his brother was on his own impulse, which ties into the idea that Dean's role is always to be himself.)

Hanging off the bridge, another revealing few responses from Dean, disguised as humour:
Sam: Dean? Dean!
Dean: What?! (exasperated, as if Sam's worry about his well-being is unreasonable, unwanted, because Dean's well-being itself is unimportant)
Sam: You okay?
Dean: I'm super. (blatant lie, yet fully accepted, simply on the strength of his ironic delivery, and the impression that Dean habitually and deliberately generates that he's always okay)

So the Impala survived her possession unscathed, Dean smells like a toilet, and they finally check into a hotel. Here, thanks to helpful credit card fraud, they stumble across John's room and everything he left behind. (Also, lockpicking!Sam to work in more details of the skills he's retained from his upbringing.)

What's interesting is we're seeing the remnants of the last moments before John gets scent of Azazel somehow, and goes off the grid tracking him. It's hard to tell how much of the disarray is due to leaving in a hurry (the food, the salt, clothes lying around, etc), and how much is just the stuff he leaves lying around when preoccupied with the job. The boys know him well enough to know that he was worried, and by inference it's unlikely that it's because of the Woman in White. He did figure it out, though, eliciting Dean's "sly dogs" tribute, which he seems to give to anyone who's getting some, regardless of how (ie, Sam and Ava in Hunted).

In leaving his journal behind, John did two things at this point: irrevocably chose the personal hunt above the generic, and set things up so that Dean, at least, would continue on the job – hopefully keeping him from tracking John, and out of the way of the hunt for Azazel. There's little doubt that John knew this hunt was an end-run, and he wanted to keep his boys as far away from it as possible. Although it's hard to know what he learned when, I think if he already knew about the psychic kids, he would have put Dean on Sammy protection detail, rather than have him continue with the family business. Presumably he learned about that during S1, while he was hunting Azazel.

Sam: Hey Dean? What I said earlier, about Mom and Dad....
Dean: *hand* No chick-flick moments.
Sam: Alright. Jerk.
Dean: Bitch.

For a show with no "chick-flick" moments, it sure draws a lot of chicks. Of course, a lot of that appeal could be how they delve emotion and relationship in a non-mushy, non-sachrine, vaguely realistic manner.

Further encapsulating the boys' relationship with the law throughout the series, the flipside to appropriating its authority, comes up next in Dean getting arrested for impersonating a federal marshal. His call to Sam (dude, 5-0, take off) shows their easy shorthand with one another, once again underscoring how fluently they communicate and work together when they choose to. I'm trying to think of a foul up on the job that ever came from tactical miscommunication rather than conflict, and I'm drawing a blank. (Anyone?)

Sam sizes up the situation at a glance and disappears without a trace, not that his competence should surprise us at this point. Meanwhile, Dean doesn't appear very worried, in spite of being cornered; given that most of the LEOs they cross paths with are used to dealing with civilians, not hunters adept in manoeuvering around and through the system, it's not surprising that the boys don't have too much trouble with the situation.

Dean swings between cockiness and exasperation with the sheriff, which (like Sam's own reaction of respect and invisibility) is indicative of his general approach to the law. For all his habitual cockiness and playing things on the dumb side, Dean seems to exaggerate it for the benefit of the officers, presumably so that when he plays dumb more realistically (like when Sam's 911 call clears out the station for him), they buy it.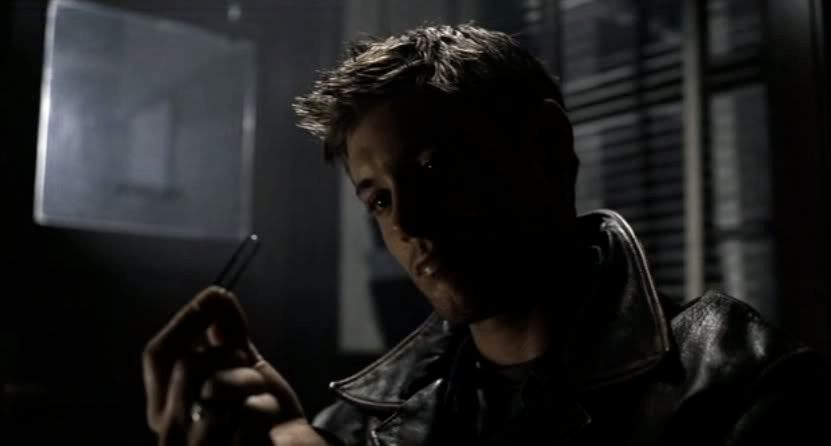 Not just a pretty face.


The only time he betrays any vulnerability was the stillness of shock at seeing Dad's journal, which would have been the first real sign that the paradigm of their lives has seriously shifted.

(Yay, Dad's journal! Hi, Dad's journal!)

Presumably the boys didn't find it in the hotel room because they would have no reason to look for it, and their search of the room had mainly been about solving the hunt to find Dad. (And, dramatic impact. Whatever. *handwaves*) John left Dean a clue for the next hunt he wants him on, directing him on the path of "saving people, hunting things" ... and off John's own trail.

Sam interviewing the widower of the ghost is sympathetic, plausible, a smooth liar, thickskinned and with a killer eye for the weak spot; he'd have been a very good lawyer. He continues to employ puppy eyes to great effect, while underneath the cogs turn relentlessly.


Not just a pretty face.


Having confirmed John's conclusion about the hunt, Sam gives Dean the window to escape, continuing their synchronicity in operation. He also picked up the Impala, either from out front of the hotel or an impound lot, which I assume means dodging the law one way or another. These boys are fast and well trained; Dean goes on to reveal that the numbers in the journal is the "same old ex-Marine crap" – co-ordinates to where John's going (except, as it turns out, not this time). The numbers seem to be how Dean knows that John's left Jericho, left his journal behind, even though Sam says he never goes anywhere without it. It ratchets up the worry for both of them, and Sam asks, "I don't understand. I mean, what could be so important that Dad would just skip out in the middle of a job? Dean, what the hell is going on?"

All very important questions, which are immediately interrupted by our monster, gunning straight for Sam. Then look what happens:

– She tries to make Sam do what she wants him to ("Take me home.") – and Sam says no.

– She locks him in, and takes control of the Impala, driving him to where he refused to go.

– Sam tries to unlock the car and get out.

– He tries to take control back by seizing the wheel, then tries to open the door again.

– Once they get to the house, he tries to reason with her – "Don't do this."

– He figures out something of her weakness – "You're scared to go home."

– He gets attacked; Constance tries to seduce him, get him to go along with her script and make him be unfaithful. "You can't kill me. I'm not unfaithful. I've never been." – "You will be."

– Even as she's holding him down and kissing him, he's fumbling for the ignition, trying to regain control.

– She disappears for a second, then attacks again, this time by invading his heart directly.

– Dean appears just in time and "shoots Casper in the face", arguably the most prosaic, bizarre and Dean way to attack the situation.

– This distacts her just long enough for Sam to regain control of the car and drive it recklessly into the house, carrying both himself and her into the place that would trap and destroy her.

– Dean helps Sam out of the car, chaos ensues, the ghost is destroyed by its own home (its own hell), and eventually both boys emerge, scathed (as represented by the Impala) but alive, and together.

Dean: You found her weak spot. Nice work, Sammy.
Sam: Yeah, I wish I could say the same for you. What were you thinking, shooting Casper in the face, you freak?
Dean: Hey, saved your ass.... I'll tell you another thing, if you screwed up my car ... I'll kill you.

Er. Somehow, that all feels very familiar. This show is, like, all metaphor and foreshadowing.

So, off they ride into the ... well, not into the sunset, but into Acca Dacca's "Highway to Hell", in fact. In their damaged but faithfully enduring symbol of family and their own lives. (*sigh* Writers ... you bastards.)

Are we done? Oh, no, wait – Sam makes his own choice, to be his own person, not coming with Dean to keep looking for John. And in spite of the obvious pain Sam's decision causes him, Dean lets him go. (Not that that ends up keeping them apart, or anything.)

Dean drops Sam off at home, and Sam is both genuinely concerned about John and trying to make it up a little bit to Dean when he asks him to call when he finds John, as well as his offer to maybe meet up later. For all his desire for independence, Sam does value his family and doesn't want to live cut off from them – it just seemed like the only way. Of course, the gesture doesn't mean much to Dean, who can't encompass family commitment not equalling all-in, with anything less always feeling like abandonment. He does, however, offer his own gesture of affirmation in return, saying they made a hell of a team back there (which, oh yeah, this isn't the norm for them yet – I keep forgetting that).

And now, onto the bookends. The episode began with seeing what John and Dean lost; now we see what Sam loses. Brady replicates the conditions with excruciating exactness (which also means that the method of killing isn't something specific to Azazel's abilities, but to his MO, like a calling-card or a signature), and it's so brutal and sudden to watch as Sam's world implodes in a fireball.


Prime directive engaged.


And, as per his defining role, Dean turns up in time to pull Sam back, out of the fire. Even though the sight of Jess was actually the first time Dean had a real image to put to what happened to his mother, in place of whatever his imagination conjured through the years, he barely gives it a glance. He's all about saving Sam, re-enacting that night 22 years ago without hesitation. Wordlessly approaching Sam at the Impala, he has the wary concern of someone who knows the spiral Sam is about to go down; Dean couldn't help or save his father as John lost himself to vengeance, but maybe this time he can get it right, and keep Sam from losing himself.

Sam himself is crying, but steely and resolute. There is none of John's initial confusion, just the same determination for revenge; appropriately, in that sense, Dean eventually kills Azazel (who killed the woman in his life), and Sam eventually kills Brady (who killed the woman in his life), and neither could ever have achieved it without the other (or John, in Azazel's case).


... The End.


Not that this is a new speculation, but in the vein of bookends and the foreshadowing of this episode, it's almost impossible to imagine that the last scene of the series won't be the boys, the trunk of the Impala, and the line "We got work to do."



... Phew. These reviews better not all be this long.





Tallies:
Lensflare!Dean = 1/1
Bitchface!Sam = 1/1
Unison!dialogue = 1/1
Crying!Dean = 0
Crying!Sam = 1/1


[Edited to add: this project will not proceed quickly. Life keeps trying to sneakily get itself higher on the list of things to spend time on. Down! Down I tell you, rl!... *sigh* Excuse me a minute while I deal with this....]


i am:

right mind, not in

my ears hear:

flame trees – sarah blasko (playlist: under silver skies)