Uh.
Except that, even though I did not once
use
the word "swoon", the observant among you will read between the lines and notice that all attempt at commentary basically degenerates into exactly that (this has been a very
hormonal
week or two, as it turns out). Even the less observant will probably notice a few tell-tale clues at the end, such as when all liveblogging efforts stop and I fall back simply on pictures. I did make some attempt with the
screencap commentary
I added later, once I'd calmed down, but no guarantees. If anyone's looking for articulate analysis, the pickings are slim. If you're looking for squee incarnate, then the kettle's on and do please make yourself at home.
North & South, 1/4
North & South, 2/4
North & South, 3/4
And we're back. This episode's theme:
\o/ ❤ *flaaaaaaillll*
(Well, if we're going to attempt to be coherent, "mutual understanding". But
\o/ ❤ *flaaaaaaillll*
pretty much covers it.)
You can precisely track Nicholas and Thornton's friendship in this episode by the blocking and OH, I WILL BE. At this point they're both in the mill – the first time we ever see Nicholas in a mill, I believe – but their paths don't even cross. Also, visually identifying him with the running of Thornton's mill from the previous episodes with Thornton and Mrs Thornton, yay! Although, yeah, not quiiiite yet.
Nicholas! \o/ Any episode that starts on Nicholas has to be a good one, right? Of course, he's getting kicked out of Thorton's mill, so there's that. And he goes straight to the Hales's, yay!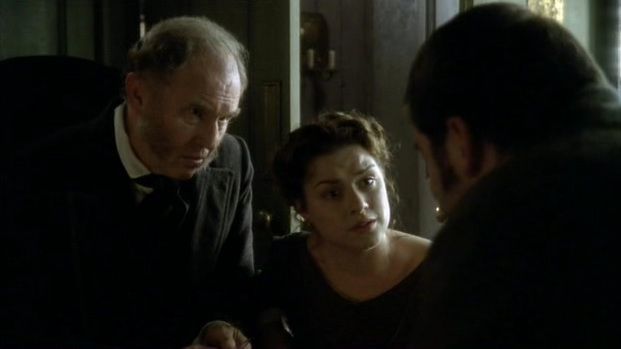 And Dixon makes him take his shoes off because they are APPALLING, too bloody right, Dixon, you don't want that tracked through the house you have to clean.
He's looking for work, to support Boucher's children (because Nicholas=YAY), and Margaret tells him he couldn't stand the boring life in the South even if there were work there, and because she now
understands
the whole situation, she urges him to try Thornton again. And she's put his shoes by the fire to dry out, aww, Margaret.... I told you things were looking up, people (well, the Hales) are being nice to people....
So, of course, enter Mrs Thornton. To "do her duty" to Mrs Hale and tell Margaret off about her unseemly conduct at the train station with the strange man, with, oh, just a
touch
too much relish. I love that, after Margaret's humble acknowledgement that she was wrong to think Thornton was the one who told Mrs Thornton about it, Margaret isn't having any of it and
walks right out on her
. \o/ Mrs Thornton, I do love you, and I get that you want to take a jab or two at the woman who broke your son's heart, but this is a BITCHY thing to do under her dead mother's name.
Nicholas stands waiting on the mercy of the power of another, the fate of his family hanging in the balance.
NICHOLAS IS WAITING BACK AT THORNTON'S YOU GUYS. THORNTON BRUSHES HIM OFF AND
NICHOLAS KEEPS WAITING
. NICHOLAAAAAAASSSSS!!!! \o/
Ach, I love this episode.
Meanwhile Nicholas Thornton stands waiting on furious at being at the mercy of the power of another, the fate of his family a whole businessful of families hanging in the balance.
And Thornton's all tetchy because his mill hasn't recovered from the expense of the strike and is poised to go under and bloody Miss Latimer's father – Thornton's banker – is suggesting he tries the same thing as what ruined his father, market "speculation", and
he
is having none of it. \o/
Just, you know, keep tracking. Only a few degrees off aggression, in passing....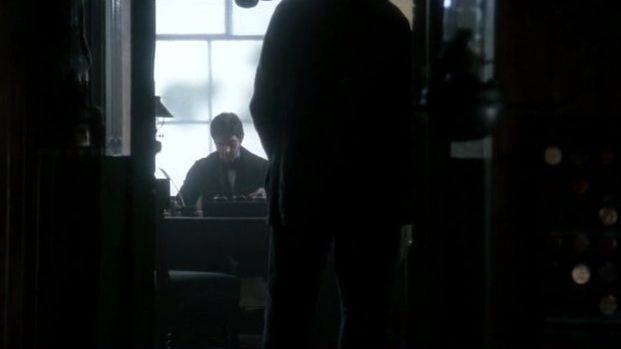 ... to EMPHATIC statement of power dynamic and thinly veiled disrespect.
And then he comes back and finds Nicholas STILL WAITING and finally grants him a very begrudging audience. \o/
This is going SWIMMINGLY.
Okay, confession time: I can never quite decide which relationship I love more in this story, Margaret/Thornton or the friendship that grows between these two. And right now, they do not understand each other AT ALL and hate and disbelieve pretty much everything the other says, and Thornton tells him to take his sob story of orphaned children and piss right off, because
as if, girlfriend
. And Nicholas keeps trying, bites his tongue, even though he's SURE that Margaret was wrong about Thornton – about which he throws in Thornton's face and ZING. Man, these guys know how to push each other's buttons – just one more bit of evidence that on their fundamental level, they are VERY similar.
Still,
because of Margaret
, Nicholas gave it a shot, and once he leaves, Thornton at least gives a moment to investigating and reevaluating the man when he finds out he stood at the gate all day to see him.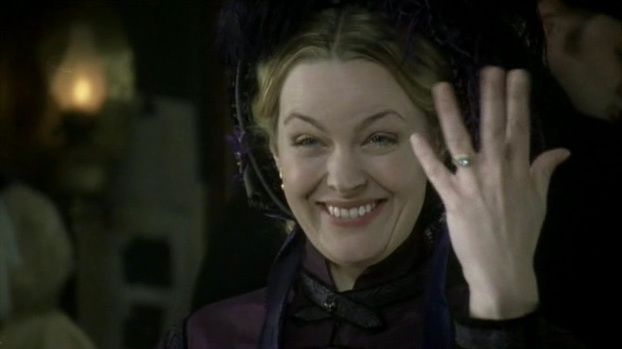 Fanny, my love, you are PERFECT.
FANNYYYYY! Engagement ring! To that WARTHOG-FACED BUFFOON mill-owner guy. UGH, JUST NO, but whatever, Fanny's proud of her match.
Then she goes right home and starts bitching about Margaret to her mother and brother, so, yeah, that goes well. Her whole commentary is, frankly, much better than mine:
Honestly. Miss Hale could do with having just a
little
humility about her position. She was at Greene's, and stopped to congratulate me. Seemed surprised when I told her of my wedding plans. She's so grave and disapproving – as if I couldn't afford it! Soon put her right. Pff. It's not as if
she
will ever get a husband. She's much older than me. And so severe! I told her about Watson's business proposition and she really turned up her nose at me. She as much as said you wouldn't be interested, as if she knew you
better
than me! So superior.
Once again Thornton has to explain to her, and then to his own mother, why he's not going to get involved with "her Watson's" risky financial speculation scheme. "At the moment, the payroll is safe." And that's the key thing: he
will not
injure others. And then he cracks another little joke with his mum, and oh,
Thornton
. IT WILL BE OKAY, I PROMISE, I'VE SEEN HOW THIS ENDS. ❤
They invite one another in – Nicholas into his home, Thornton into his business (where he lives and which may as well be his home), and basically it's: I
'
m willing to give you ONE CHANCE, BUDDY.
AND THEN HE GOES AND FINDS HIGGINS. \o/\o/\o/ Because he has done some investigating and discovered that Nicholas was telling the truth. And he walks through the stark reminder of the poverty he endured after his father died, and then Nicholas opens the door, and I either stop typing at this point or go into CAPSLOCK SHOCK.
The plain-speaking between them doesn't pull a single punch and yet they still reach an understanding and Nicholas has a job and I don't have enough \o/ in the world and
we're only a third into the episode SEND HELP
.
"Was Miss Hale the woman who told you to come to me?... You might have said." – "And you'd have been a bit more civil?" ZIIING, NICHOLAS, ILUUUUUUUU
Thornton then turns up at the Hales's to read and tells Margaret he's given Higgins a job, and once again I either stop typing or just start transcribing the whole damn thing.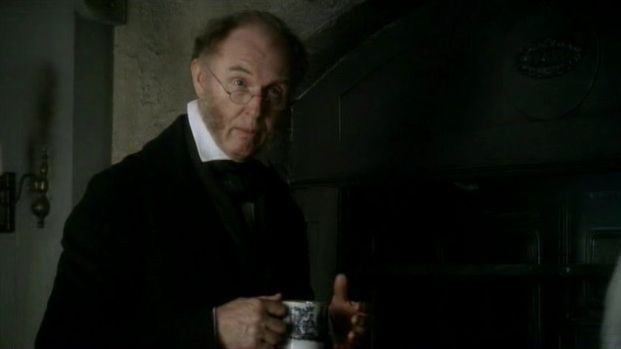 O hai Mr Hale, welcome to the party, YES Margaret DOES have reason to believe Thornton cared for her. But thank you for being willing to forsake his company for the comfort of your daughter. "I'm sure you were honest with him. That's the most important thing." Yeeeaah.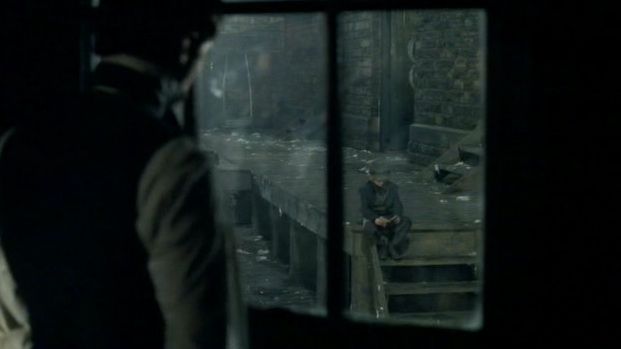 O HAI orphaned boy of weak father sitting on the steps PRACTICING HIS READING while he waits for the utterly determined man who's taken him in – taken a whole family on his shoulders – and the ways in which this kid is drawing the connections between these two men to the surface is just absolutely gorgeous.
Thornton spots Boucher Jr sitting on the mill steps waiting for Nicholas, just, awwwwww. ❤ Nicholas and Jr go on to get a feed-up at Margaret's, and Nicholas confesses he's noticed
how freaking hard
Thornton works, and the grudging respect there is palpable, even while Margaret teases him, which ... look, does anyone mind if the rest of this is simply unintelligible flailing?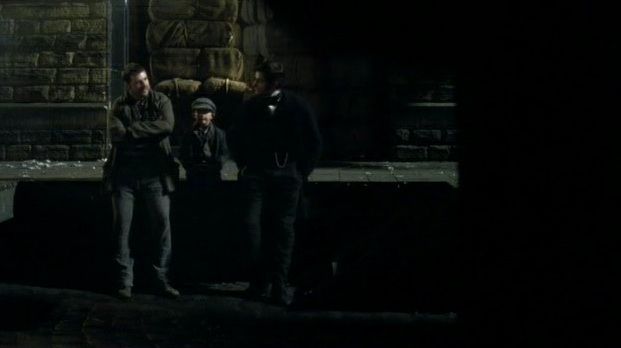 AND NOW THEY STAND ON THE SAME SIDE, IF ONLY FOR THE SAKE OF THE BOY. They at least understand that the other can be trusted that much, can work together on that instead of against each other. And they both retain their original goals – Thornton a sustainable business, Nicholas the good of the workers – but now they're looking for ways to make those goals coincide, and they tacitly acknowledge to one another the direct GOOD influence each other's goals can have upon their own. AND DID I MENTION \o/?
BECAUSE NOW THORNTON SEES JR ON THE STEPS AGAIN, PRACTICING HIS READING, AND COMES OVER TO TALK TO HIM. *FLAAAAILLL MY HEART OMG THUD* And then Nicholas turns up after working back late and they're all SUSPICIOUS but HONEST WITH EACH OTHER and end up talking about market forces and setting up a scheme for the workers so they can get decent food wholesale
because Jr hasn't had his supper tonight
because there's no decent food to be had even with a paycheck. Oh, plus, "if men eat well they work well", so it's in everyone's interest, and Thornton commissions Nicholas to look into it, but no promises, and \o/\o/\o/\o/\o/\o/\o/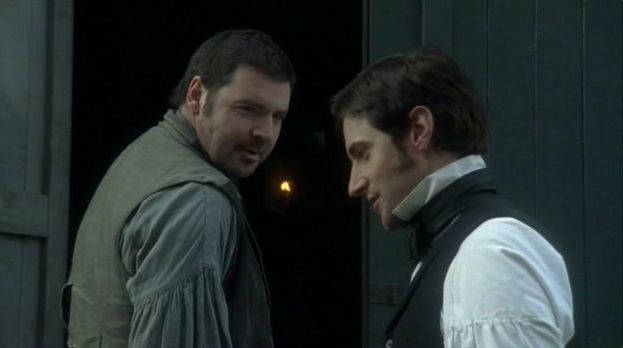 THEY'RE BOTH WORKING HARD IN THEIR SHIRTSLEEVES AND NICHOLAS KNOWS THORNTON HASN'T EATEN ALL DAY AND
AND! AND AND AND! AND EVERYONE STARING, AND EATING TOGETHER AND FELLOWSHIP AND CAUTIOUS MUTUAL INCLUSION AND RESPECT AND AAAAANNND *THUD*
... And skip to it up and running and
Nicholas inviting Thornton in to eat with them and Thornton accepting
and I LOVE the sudden silence when they walk in together. AND MARY'S RUNNING THE KITCHEN. STEW. *MARYCUDDLES*
WHEEEEEEEEEEEEEEE FANNY 4EVA!!!!! She needs her own Wide Sargasso Sea treatment or something, I'd read it. I mean, probably. If it were like a novella or something. And updated and set in the Valley. NO NOT CLUELESS.
Late spring appears, and Fanny's wedding, and oh, look, Miss Latimer and Thornton standing together smiling. So, yeah, that's misleading for all of a
second
, although Margaret apparently finds it convincing. Presumably because she's heard Miss Latimer utter actual words before, which puts her one up on us.
Mr Bell invites Hale to visit at Oxford for a reunion of their college friends, and Margaret sees him sweetly off.
"I feel like I've come home," says man foolishly while being a literary character sitting in a church graveyard and not wearing pimp pants of facetiousness.
Enter Oxford, Mr Bell AND HIS PANTS. Seriously, how am I supposed to be coherent AT ALL?
... They have a lovely little trusting and affectionate conversation, and we're reminded (just in time) that rich Mr Bell (he owns Thornton's mill, don't forget, along with substantial other Milton properties – his connections there was the reason the Hales moved there in the first place) has undertaken for Margaret's welfare when Hale passes on. Feel that? it's the icy cold hand of foreshadowing, and it doesn't take long to land. BAM. Bye, Hale, you sweet, gentle, principled man.
BOTH GUARDS DOWN, BOTH NEEDING TO LEAN ON EACH OTHER THE DOORFRAME, BOTH HURTING, BOTH FACING THE PROSPECT OF ALSO LOSING MARGARET NOW. IT IS A BROMANCE FOR THE AGES, ONLY VERY ENGLISH AND RESERVED AND ALSO NO "BRAH"S.
And Nicholas is the one to break the news to Thornton, and once again invites him in to eat ... and discuss that there's nothing to keep Margaret in Milton anymore. O NO.
Aunt Shaw has come to bring Margaret back to her family in London ... and then they "are leaving this
horrible
place for good!"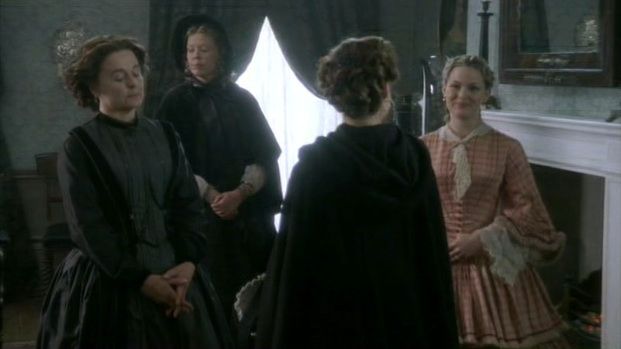 Her, up the back? That's Aunt Shaw (Mrs Hale's sister – who married for money rather than love – for anyone who cares).
Fanny. Sweetie. You continue to be a delight. And Margaret apologises to Mrs Thornton for her rudeness at their last meeting, charitably assigning good intentions to her, which ... eh. Mrs Thornton is mostly just happy to see this thorn in her boy's side leaving forever, so it's all very ~gracious~ all around.
Sorry, can't type about Thornton's goodbye. CAN'T DO IT, YOU GUYS. EVEN HE CAN'T SPEAK BY THE END, DON'T JUDGE US, OUR LOVE IS PURE.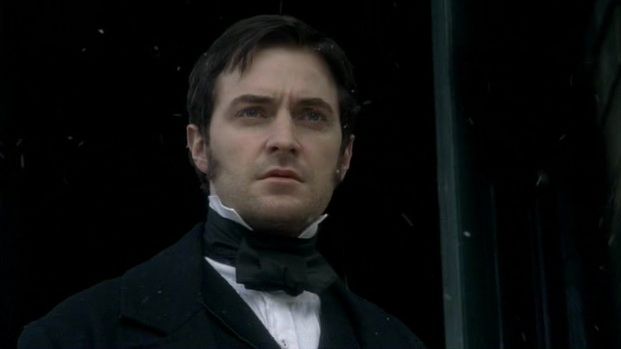 BUT THEN OMG OMG HE STANDS AND WATCHES HER CARRIAGE DRIVE AWAY IN THE SNOW AND VERBALLY
WILLS
HER TO
look back at me
ASDFGHJKLKJHGFDSA OMGOMGOMG and she DOESN'T and we KNOW just from HIS EXPRESSION and WHY DID I EVER THINK I COULD DO THIS WE'RE ONLY HALFWAY THROUGH AAAAIIIEEEEEEEE
*pause* *paper bag cough wheeze wheeze cough wheeze pant* *unpause*
NICHOLAS AND MARY
*pause* OH FFS *unpause* JUST GO ON WITHOUT ME FOR A WHILE
They were heading to the station to catch her before she left and WERE GOING TO GO TO LONDON LATER TO SAY GOODBYE IF THEY MISSED HER. I CAN'T EVEN. ALSO MONEY AND BOOKENDS AND AND
... London. Cousin Edith. Plans to marry Margaret to Cpt Awkwardpants and have them all live in one big house together and yawwwwwwn.
BUT MR BELL ARRIVES TODAY AND HELLS YES HE CAN MAKE HER SMILE AND ME TOO WHILE HE'S AT IT.
One of these things is not like the other. They got rid of the roses? The Philistines!
But yeah, that's pretty much it. The price for gaining new horizons is realising how small the old ones were, grieving what they once were to you and accepting them for what they are.
Okay, seriously, I need to take a moment, and while Margaret is rediscovering Helstone, and undergoing a gentle bout of reverse-culture-shock, it's as good as any. She has been changed, and Helstone is still lovely, but her broader outlook no longer fits in its narrow range. Character development, wonderful, but at least my heart's not under direct assault.
Whew
.
Steady.... No yelling at the parochial mindsets, even if they did cut down the roses and advocate simpleminded faith. Not because it's okay, but because it won't help.
Everyone still with me? Are we okay? Shall we continue?
I don't care, I like them. And I can say this because I DO get my Margaret/Thornton ending, and it's so brilliant and perfect-above-and-beyond any other romantic resolution I've had the pleasure of watching/reading (I keep noticing how WEAK romantic resolutions are in movies these days, books I don't even bother, is that just me or what?) that it simply can't be eclipsed, but I'd give this pairing an AU read too. Maybe combine it with Fanny's Wide Tartan Hankies? Somebody? Anybody?
Good, because Mr Bell and his funky pants are about to hint that he'd have liked to marry Margaret, which I understand was not an unusual arrangement back then in those kinds of circumstances, but modern sensibilities are all ewwwww, but I kind of like it, actually. He genuinely admires Margaret, and she's about the only person he probably could ever have endured being married to – think of the miserable mismatch of the Bennets in P&P, this guy IS basically Mr Bennet but happy in his academic bachelorhood. But he lets go of the wish easily, especially since he's had it confirmed by his London doctor that he's ALSO DYING. So instead he's going to give most of his money to Margaret now, and go back to South America where he grew up and wind down the clock with a suntan and probably rum, happy days.
Oh, and also Margaret explains the whole Fred-Thornton-trainstation-inquest-lie misunderstanding to Mr Bell, and he, with his usual perspicacity, spots that she is in love with Thornton now, and doesn't push anything other than her taking his own money, no strings attached. (Oh, and Fred is safe and married in Cadiz, so yay for that, even if Margaret feels she may never see him again.)
As the man himself puts it:
Oh, hush. You must think of me living the life under the Argentine skies. Not many men can plan their exit from this world in such a leisurely way. – Come now, we must cheer up. If we go now, we'll be in London in time for dinner, and I'm in very great need of good food.
Sorry, sir, you don't have the integrity capital to convey this vital piece of news. Now bugger off and die in Argentina. (Sidenote: I'LL COME WITH YOU TO ARGENTINA, MR BELL! PICK ME! I LOVE MOJITOS, WE CAN STOP OFF IN CUBA. ALSO ORANGES, I LIKE ORANGES, LOOK, THE POINT IS, I'LL COME AND KEEP YOU COMPANY AND WE'LL SNARK THE LIVE-LONG DAY, HOW IS THIS A BAD PLAN.)
He then goes to finish up his business affairs with Thornton, and in a snide bit of incidentalness lets Thornton discover that Margaret is his new landlord – just as Thornton's business is circling the drain, ouch – and Thornton, having no respect for Mr Bell's little games,
will not
hear him out when he sincerely attempts to explain what really happened with Fred, basically telling him where the door is. SIIIIGH.
In London, Henry is helping Margaret with her own business affairs, and she wants to try to help Fred with all this newfound wealth. And she is gently but firmly asserting her independence from the vapid London society affairs, and taking up responsibility for her own life. MARGARET. \o/ (Which is also the only impact Mr Bell was ultimately able to have on the plot, which I am okay with.)
Just, oh, my heart. No matter what he does, no matter how hard he works, he's ruined by refusing to do the thing that ruined his father. Or he would be, if the integrity he displays here hadn't already made his suddenlyrich!landlady!Margaret fall in love with him before all this. RESULT.
Fanny stalks in and gloats that if Thornton had only invested in Watson's scheme he'd have made
stacks
of money, but as it is, this turn in the market (and everyone besides him profiting on it) pretty much puts the mill beyond recovery. So, it'll just be Thornton and Mrs Thornton on their own again, and at least they don't have to worry about Fanny's welfare now.
And as it turns out, Mr Bell DID invest with Watson, because duh he would, and Margaret is richer than ever, and Cpt Awkwardpants tells her that Thornton will soon be closing up and she'll be looking for a new tenant.
Can I just say how glad I am this man will be kinging-up the dwarves in The Hobbit? Almost as glad that Martin Freeman is Bilbo. I'm actually not a huge fan of The Hobbit, I found it boring (too many dwarves, don't care about hobbits, I have no soul), but I have a feeling I will have NO PROBLEMS watching it. Plus whatshisface as not!Legolas, that works too. Although how did this man NOT get cast as either Snape or Sirius? Not that I
'
m complaining there either, because then I might have actually had to watch the movies, and reading the books was tedious enough.... Sorry, got distracted, thought this was Unpopular Opinion Friday for a second.
AND THORNTON IS STANDING IN HIS EMPTY, SILENT MILL, AND ALL HE'S THINKING ABOUT IS MARGARET.
But it's okay, because Jr is there, and Nicholas is finishing up the last job, and NICHOLAS IS A CHAMPION because 1) "If you're ever in a position to take on workers again, there's a fair number of us who'd be happy to run a mill for you. I got up a petition to collect the names." and 2) "... about Miss Margaret, have you heard how she's doing?... I thought she might've gone to Spain.... to see her brother, now that he's her only family.... Him that were over when the mother were dying. Kept it a secret, they did. My Mary used to fetch things for them – she's a quiet girl, but she talks to me.... [He] found himself on the wrong side of the Navy, in real danger he was."
ASDFGHJKJHGFDSDFGHJKLKJHGFDSDFGHJKLGFDSF
GHJHGFDFGHJKL;;LKJHGFDSDFGHJKL;KJHGFDSFG
HJK
*breath*
HGFDSASDFGHJKL!!!!!!!!!!!!!!!!!!!1!!1!!!
!!!1111!!!!!!!!!!!!!
YOU COULD TRACK KEY RELATIONSHIPS THROUGH HANDS ALONE, TOO, IF YOU WANTED.
And Thornton, after interjecting his confused questions, just breathes this soft little
he was her brother
and Nicholas gives him this LOOK, and then calls him "Thornton", not "Master" – because they really ARE equals, and *handshake* and bids him good day AND I LOVE THIS FRIENDSHIP OKAY.
So Margaret has decided to invest in Thornton's mill and that she needs Henry to come with her to Milton to figure it out (and Cpt Awkwardpants takes this as a GOOD sign for him? seriously, man, from one end of this story to the other you DO NOT GET IT) and STANDS IN THE EMPTY SILENT MILL AND THINKS OF THORNTON AND AND AND
... Oh. Mrs Thornton. Hi. That was NOT the reunion we were looking for. But Margaret finally gets to tell Mrs Thornton that she gets it, now, finally, what this place is and could be, and I think these two are going to be okay, eventually.
DUUUUUUUUUUUUUUUUUUDE YOU ARE DOING SO WELL
BUT THORNTON HAS GONE TO HELSTONE. ON HIS OWN INITIATIVE. FOR NO OTHER REASON THAN TO UNDERSTAND MARGARET BETTER. BOOKEEEEEEEENNNNDS
[and then I stop being able to type again]
Cpt Awkwardpants and Margaret are heading back South to London, and they're at a station waiting for a North-bound train to pass, and WHO'S ON THAT TRAIN HEADING BACK NORTH?
Seriously, I can't even ... screw it. Y'ALL ARE
ON YOUR OWN
. ALL I'VE GOT LEFT IS SCREENCAPS AND CAPSLOCK AND A MISAPPLIED RATIO OF PUNCTUATION.
DO NOT SAY YOU HAVE NOT BEEN WARNED.
TRAINS YOU ARE FORGIVEN FOR ALL YOUR SHITSTIRRING
YOU SEE THIS SHIRT COLLAR? THIS SHIRT COLLAR SAYS UNDERSTAND ME AND LOVE ME BECAUSE I UNDERSTAND AND LOVE YOU AND ALSO SMIIIIIIIIILES, ALSO *ROSE* BECAUSE I AM THE AWESOMEST \o/
YOU FOUND SOME?!?!???!!!!! THIS IS SYMBOLIC ON SO MANY LEVELS AND I DON'T EVEN KNOW WHAT TO MAKE OF THIS YET AND I THOUGHT YOU DESPISED ME BUT I KNOW YOU'RE A KIND AND GENEROUS MAN AND UH WHUT IS GOING ON
YES THAT'S RIGHT HE'S GIVING HER THE SAME FLOWER YOU DID WHEN YOU PROPOSED IT'S NOT THE FLOWER THAT DOES IT YOU TWERP IT'S WHAT IT SYMBOLISES, WHICH IS *UNDERSTANDING* FOR HIM AND WAS *MISUNDERSTANDING* FOR YOU AND DID I MENTION YOU TWERP
AS FAR AS I KNOW YOU DO STILL DESPISE ME AS A LYING LIAR AND I WANT YOU TO UNDERSTAND THAT THIS BUSINESS PROPOSAL IS JUST GOOD BUSINESS AND YOU'RE NOT OBLIGED TO ANYTHING BUT IT'S GOOD BUSINESS AND YOU WOULDN'T OWE ME, YOU'D TOTALLY BE HELPING MY FINANCIAL RETURNS ALSO I WANT TO HELP YOU AND SAVE THE MILL AND BY THE WAY I AM COMPLETELY IN LOVE WITH YOU
YES I CAN SEE THAT, WHY ARE YOU STILL TALKING WHEN I'M LOOKING AT YOU LIKE THIS SHUT UP ABOUT THE MILL ALREADY IT IS NOT IMPORTANT AT THIS JUNCTURE
SO I'LL JUST HAVE TO TAKE THINGS IN HAND THEN WILL I
OKAY I CAN DO THAT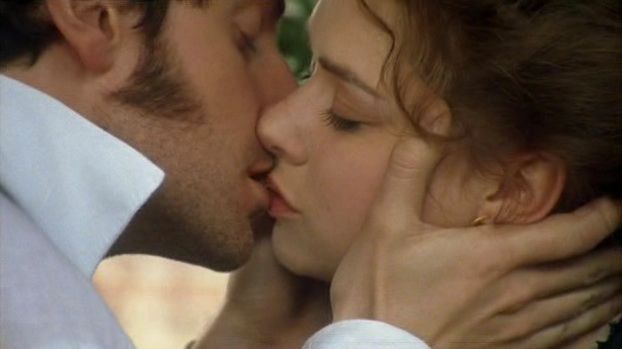 ..... *GURGLE* *THUD*
NOBODY CARES, HENRY, GO AWAY, YES SHE IS COMING HOME WITH HIM
MOAR KISSING OKAY WE CAN DO THAT THAT'S FINE
THE END.
\o/ ❤ *flaaaaaaillll*
(To anyone still out there, thanks for coming on the ride with me, it's been fun. :D)
So. In the interests of actually finishing a project for once, I made a jolly good go at liveblogging (another word which I do not think means what I think it means) the last episode of North & South.
i am:

accomplished

my ears hear:

sky is falling – bertie blackman